MSC News
Menno Simons College 15th annual Social Justice Fair to be hosted virtually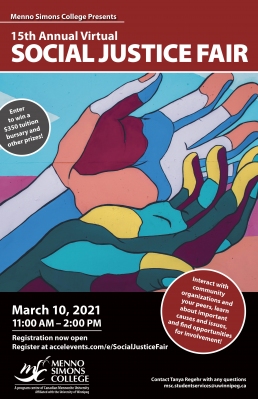 Every year, Menno Simons College (MSC) hosts a gathering of local and international organizations working in areas of social justice in the Riddell Hall of the University of Winnipeg, an event that attracts students, staff, faculty, community members, and alumni.
MSC Academic Advisor Gina Loewen, whose involvement with the Social Justice Fair spans more than a decade, explains that "this annual event is a chance to have meaningful conversations and increase awareness about the work various organizations are engaging in our communities. It also provides a platform for interested individuals to ask questions about possible volunteer positions, summer job openings, or explore future career opportunities."
This year marks the 15th annual Social Justice Fair and the first to be hosted completely over a virtual platform. Whereas in previous years, students could wander between booths, spontaneously sparking conversations with exhibitors, this year's virtual fair will offer an online exhibition hall where participants can select 15-minute sessions at each chat room (booth) with over 25 exhibitors.
Tanya Regehr, coordinator for the event, elaborates that "in addition to the chat room sessions, we have also set up lounges where participants and exhibitors can chat about different topics, ask questions, and share links. The practicum director will also be available during these time slots to assist students."
As for the demographic, "anyone is welcome" says Regehr, "any interested community member can benefit from this event. You do not have to be a student or faculty. You just need to be curious about what kinds of causes are being promoted in your city."
The Social Justice Fair will take place on March 10, 2021 from 11:00 AM – 2:00 PM. To register for the event, visit https://www.accelevents.com/e/SocialJusticeFair#about.
Print This Article