MSC News
Rainbow Butterfly warming hut project honours murdered and missing Indigenous women, girls, and LGBTQ2S individuals
Conflict resolutions studies project at MSC grows into nonviolent social action on the Red River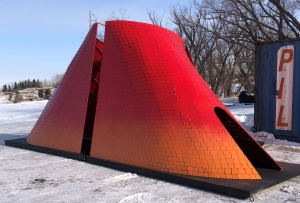 In the winter of 2018, a group of Conflict Resolution Studies students, including Angela Lavallee (an impacted survivor of gender-based violence) and Sanjam Panag, decided to work on a project that centered on murdered and missing indigenous women, girls, and two-spirit. The project was assigned in a course titled "Nonviolent Social Change," taught by Karen Ridd, Assistant Professor of CRS at Menno Simons College. Their project was set up at the University of Winnipeg as a public event and brought in survivors, family members, Bear Clan Patrol, furthering conversations that would become a springboard for what is now the "Rainbow Butterfly" warming hut project. Four years later, after having hosted events such as the "Reflection on the Red" and through networking with a group of visionaries who go by"Collective of Voices", the warming hut is complete and ready to be unveiled on the Red River trail.
Rainbow Butterfly, given its name in a naming ceremony by Indigenous elder Grandmother Candi-Ann Smith, exudes a sun-splashed radiance whose glass centre emits warm light onto both directions of the river. As Panag explains, "We want everyone to know that this issue is not limited to the indigenous community and that everyone should engage with it, learn about it, and not shy away from it. These lives are meant to shine, and the structure reflects that." Rachelle Lemieux, one of the lead architects of the project, shares how the design was inspired by the name: "We considered how rainbows appear after a storm and how a butterflies are often interpreted as transition, as an object that moves from one state to another, morphing and changing through time, and so we decided to look at a butterfly's wing under a microscope and noticed how the scales appeared architectural, scales which help the butterfly to shed water and fly." On the naming ceremony, Lavallee comments that, "one of the important pieces for us is to acknowledge the spirit of life and the indigenous way of being. Because of this, her name [Rainbow Butterfly] symbolizes so many different things. It is impossible to be able to represent every individual, but we hope that people will be able to bring their experiences of love and grief to this warming hut."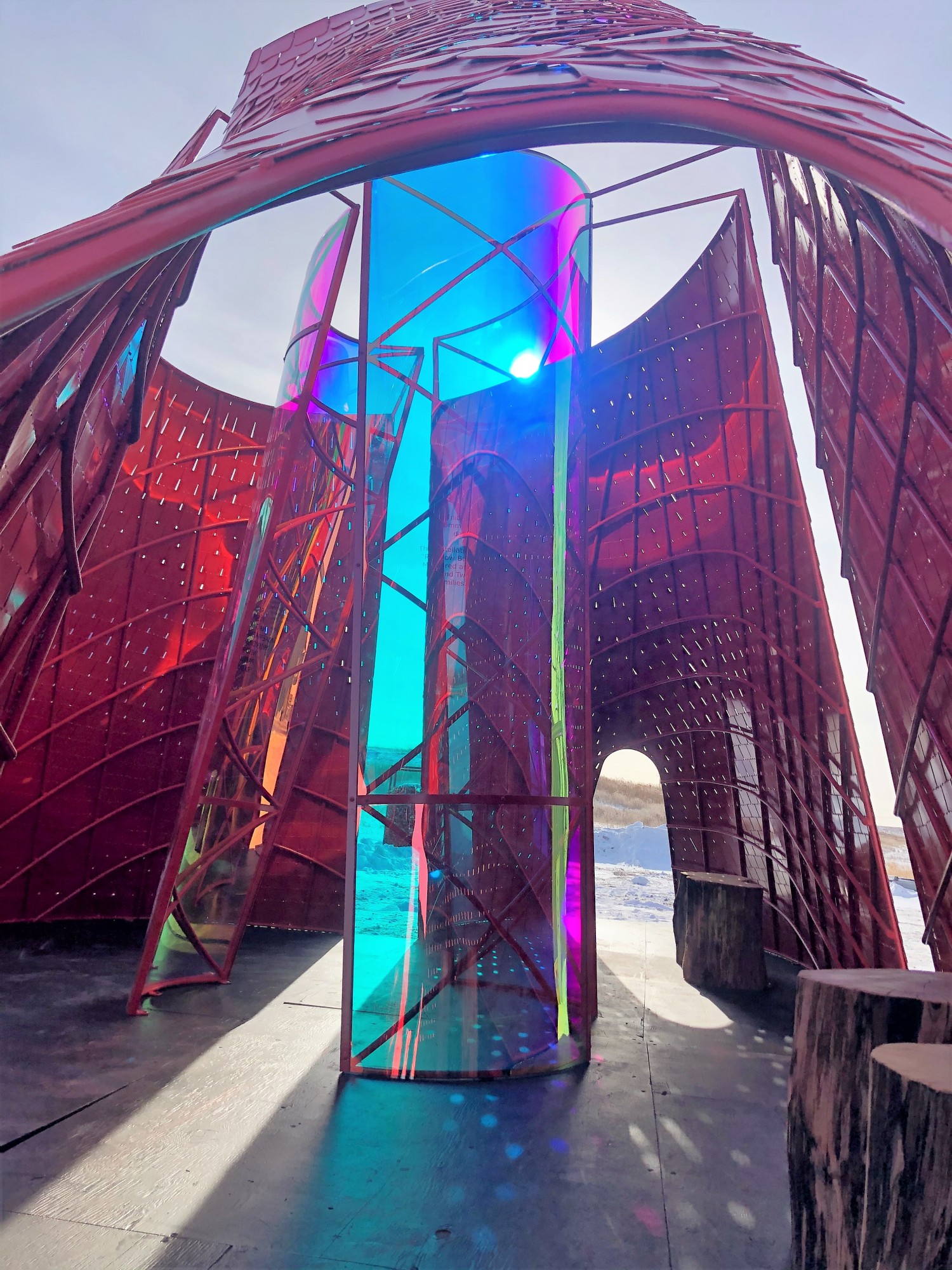 Lavallee, a frequent runner, shares that the idea for the warming hut came from epiphanies experienced during her runs along the river trail at The Forks: "While running, I often am mindful of the indigenous women, girls, and LGBTQ2S peoples who are unfortunately found in the waters. I also think about all the families who walk the trail every day, for whom this land has become a safe and special place, a land that has been unsafe and violent for others. When we began to work on this project, we wanted it not just to display missing and murdered women, girls, and two-spirit as numbers, but as water carriers, mothers, sisters, matriarchs, and land."
Speaking as a survivor of gender-based violence, Lavallee hopes that those who see Rainbow Butterfly will not only experience awareness, but also realize "the beautifulness of these women, girls, and LGBTQ2S individuals, the gentleness and strength that they have, a strength that goes beyond survival, a strength that we are born with and is who we are. I would want people to understand how to become an ally, to slow down and realize how there can be beauty even in chaos, and to ask themselves 'What am I? The beauty or the chaos?'"
While an exact location and date for the installation have yet to be determined, there is work being done to acquire a spot near the legislative building by March 2021. Rainbow Butterfly is captioned with words written by activist and advocate Leslie Spillett which read: "The butterfly teaches us the power of transformation and creating beauty. This is an honour to all the Indigenous women, girls, babies, and two-spirit relatives who have transformed into spirit and whose lives continue to challenge and inspire us all to create a new world that is worthy of our children."
To stay updated about Rainbow Butterfly, follow @collectiveofvoices on Instagram or Facebook. While being a certified service therapist, Lavallee is also the founder of Soles on Fire, an annual run to bring awareness, prevention, and intervention on violence against women and girls. For more information about MMIWG and how to honour the voices of women and girls, see the 231 calls for justice in the MMIWG National Inquiry: https://www.mmiwg-ffada.ca/wp-content/uploads/2019/06/Calls_for_Justice.pdf
Print This Article