Faculty
Kirit Patel
Associate Professor of International Development Studies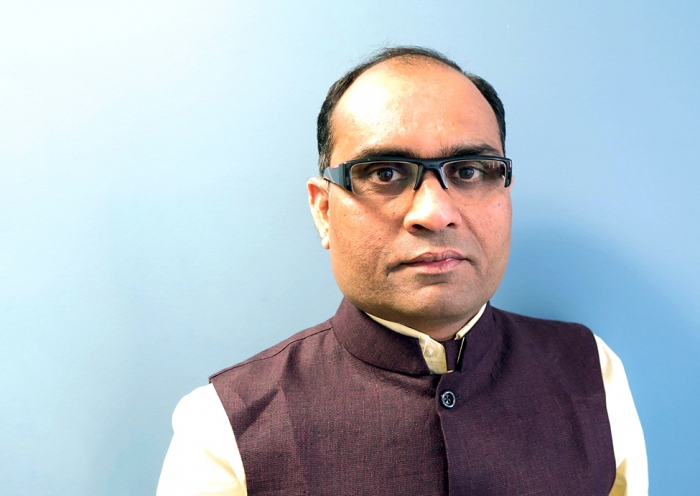 | | |
| --- | --- |
| | International Development Studies |
| | |
| | 204.953.3852 |
| | 2MS33 |
Dr. Kirit Patel began teaching International Development Studies at Menno Simons in Fall 2007. As an academic, policy analyst, and development professional, Dr. Patel's teaching and research strive to seek a balance between theory and practice.
Dr Patel's doctoral research examined how indigenous communities in Western India manage their crop biodiversity under a neoliberal policy environment that hastens change in the biophysical properties of farms and brings about fundamental shifts in sociocultural practices and livelihood options. It included comparative ethnographic work on indigenous and non-indigenous ethnic groups and computation of quantitative spatial indices of diversity using field-level GIS mapping. Dr. Patel's innovative research won the Vavilov-Frankel Fellowship?an international scholarship awarded annually to two scholars worldwide by Bioversity International. He was the first social sciences researcher to receive this scholarship since its inception in 1989. Dr. Patel's thesis was also awarded second prize in the PhD Dissertation Competition (2007-08) of the Canadian Association of South Asia (CASA).
The primary focus of Dr Patel's current research has been sociocultural and ecological impacts of agrarian and climate change on small-scale agriculture and indigenous communities in the Global South. It includes loss of agricultural biodiversity and associated indigenous knowledge, change in food consumption and its consequences on nutrition security, rural-urban migration for seeking livelihood, and participatory technology development to promote cultivation and consumption of climate change-resilient indigenous crops, such as small millets. Recently, his work has been extended to examining the impacts of urban middle-class-led environmentalism on the poor and governance of common property resources in the Global South.
Areas of Teaching
Poverty and inequality, environmental sustainability and justice, development policy, environment and development issues in South Asia, and research methods.
Education
PhD (University of Guelph, 2008)
Work in Detail
Teaching
IDS 1100 Introduction to International Development Studies
ENV/IDS 2603 Environmental Sustainability: A Global Dilemma
IDS 2184 Asia/Pacific Development Issues
IDS 2111 Participatory Local Development
IDS 3111 An Analysis of Development Aid Policies
IDS/CRS 4920 Program Planning, Monitoring, and Implementation
Research
Research Projects and Publications
Dr. Patel has been successful in obtaining research funds (total $3.75 million since 2011) from competitive funding sources such as Social Science and Humanities Research Council (SSHRC), IDRC's Canadian International Food Security Research Fund (CIFSRF) and others. Dr Patel's research has involved undergraduate, graduate, and post-doctoral students from both social and natural sciences.
Hom Gartaula, Kirit Patel, Derek Johnson, Rachana Devkota, Kamal Khadka, and Pashupati Chaudhari 2016. From food security to food wellbeing: Examining food security through the lens of food wellbeing in Nepal's rapidly changing agrarian landscape. Agriculture and Human Values, Vol 33(4): 1-17. DOI: http://dx.doi.org/10.1007/s10460-016-9740-1
Kirit Patel, Hom Gartaula, Derek Johnson, and M Karthikeyan 2015. The interplay between household food security and wellbeing among small-scale farmers in the context of rapid agrarian change in India. Agriculture and Food Security, Vol 4(16): 1-16. DOI: http://dx.doi.org/10.1186/s40066-015-0036-2
Kirit Patel, David Guenther, Kyle Wiebe, and Ruth-Anne Seburn 2014. Promoting Food Security and Livelihoods for urban poor through the informal sector: A Case Study of Street Food Vendors in Madurai, Tamil Nadu, India. Food Security, Vol 6(6): 861-878. DOI: http://dx.doi.org/10.1007/s12571-014-0391-z
Matt Little, Sally Humphries, Kirit Patel, and Cate Dewey 2016. Decoding the type 2 diabetes epidemic. Medical Anthropology, Vol 35(6): 1-15. DOI: http://dx.doi.org/10.1080/01459740.2016.1231676
Warren Dodd, Sally Humphries, Kirit Patel, Shannon Majowicz, and Cate Dewey 2016. Determinants of temporary labour migration in southern India. Asian Population Studies, 12(3): 294-311. DOI: http://dx.doi.org/10.1080/17441730.2016.1207929
Matt Little, Sally Humphries, Kirit Patel, and Cate Dewey. 2016. Factors associated with BMI, underweight, overweight, and obesity among adults in a population of rural south India: A cross-sectional study. BMC Obesity, Vol 3(12): 1-13. DOI: http://dx.doi.org/10.1186/s40608-016-0091-7
Shailesh Shukla, Janna Barkman, and Kirit Patel 2016 Indigenous agricultural knowledge-based school competition as an informal learning approach to enhance local food security: A case study from Anchetty, India. Pedagogy, Culture, and Society, p. 1-17, DOI: http://dx.doi.org/10.1080/14681366.2016.1225114
Rachana Devkota, Kamal Khadka, Hom Gartaula, Ashish Shrestha, Swikar Karki, Kirit Patel, and Pashupati Chaudhary 2016. Gender and labor efficiency in finger millet production in Nepal, In Towards Transforming Gender and Food security in the Global South, Jemimah Njuki, John Parkins and Amy Kaler (eds), p. 7-26, NY: Routledge.
Matt Little, Sally Humphries, Kirit Patel, and Cate Dewey 2016. Factors associated with glucose tolerance, pre-diabetes, and type 2 diabetes in a rural community of south India: A cross-sectional study. Diabetology and Metabolic Syndrome, Vol 8(21): 1-11. DOI: http://dx.doi.org/10.1186/s13098-016-0135-7
Subramanyam Ragupathy, Shanmughanandhan Dhivya, Kirit Patel, Abiran Sritharan, Kathirvelu Sambandan, Hom Gartaula, Ramalingam Sathishkumar, Kamal Khadka, A. Nirmalakumari, and Steven G. Newmaster 2016. DNA record of some traditional small millet landraces in India and Nepal, 3 Biotech, Vol 6 (133): 1-19, DOI: http://dx.doi.org/10.1007/s13205-016-0450-6
Rachana Devkota, Kamal Khadka, Hom Gartaula, Ashish Shrestha, Deepak Upadhya, Pashupati Chaudhary, and Kirit Patel. 2014. Farmers' seed networks and agrobiodiversity conservation for sustainable food security: A case from the mid-hills of Nepal. International Journal on Biodiversity Watch, Vol 4: 109- 133.
Kirit Patel and Kathryn Dey 2013. The Trajectory of Environmental Justice in India: Prospects and Challenges for the National Green Tribunal, In Perspectives on Governance and Society, Tim, M, Trivedi N and D Vajpeyi (eds), pp. 160-174, New Delhi: Rawat Publications.
Ragupathy Subramanyam, Steven Newmaster, Kathirvelu Sambandan, Nirmala C Balasubramaniam, Duvuru Narasimha, and Kirit Patel 2014. Securing Biocultural Diversity of the lost ancient small millets, International Journal on Biodiversity Watch, Vol 4: 89-108.
Newmaster S, R Subramanyam, D Shanmughanandhan, J J Chitilappilly, S Ramalingam and Kirit Patel 2013. Genomic valorization of the fine scale classification of small millet landraces in southern India, Genome, Vol 56(2): 123-127. DOI: 10.1139/gen-2012-0183.
Kirit Patel 2004. Plants, Property and Patents: Farmers Rights over Plant Genetic Resources in Developing Countries, In Intellectual Property Rights in Agricultural Biotechnology, Erbisch, F. H. and Maredia, K. M. (Eds), pp. 95-106, NY: CAB International.
Anil Gupta, Vinit Rai, Kirit Patel, Murali Krishna, Riya Sinha, Dilip Koradiya, Chiman Patel, Panna Patel and Hema Patel. 2001. Blending Universal and Local Ethics: Accountability towards Nature, Perfect Stranger and Society, In Protecting Biological Diversity: Role and Responsibilities, Catherine Potvin, Margaret Kraenzel and Gilles Seutin (Eds), pp. 129-48, Montreal: McGill-Queens University Press.
Anil Gupta, Brij Kothari and Kirit Patel. 2000. Knowledge Network for Recognizing, Respecting and Rewarding Grassroots Innovations, In Information and Communication Technology in Development: Cases from India, Bhatnagar, S. and Robert, S. (Eds), pp. 115-31, London: Sage Publication.
Research Reports (Unpublished)
Karthikeyan M, Damodar Jena, Kirit Patel, Kamal Khadka, Rachana Devkota, H Samartunga and Kiran Sakkhari 2013. Baseline Survey in the Project Sites, A Report submitted to the IDRC, Ottawa: IDRC, Canada, pp. 1-546.
Askeland, Gaelne and Kirit Patel 2010. Understanding and Promoting Effective Partnerships for Community Economic Development: A case study of SEED Winnipeg's Partnerships, A report submitted to the Winnipeg Inner City Research Alliance (WIRA), Winnipeg, p. 1-43.
Kirit Patel 2005. Breaking the Nexus between Poverty and Agrobiodiversity: Institutional and Policy Changes for supporting Farmer-Led Participatory Crop Improvement and Conservation, the final research report of the Valiov-Frankel Fellowship. Rome: Bioversity International, p. 1-78.
Applied
Development Experience
Dr. Patel was a founding board member (1993-99) of the Society for Research and Initiatives on Sustainable Technologies and Institutions (SRISTI). As part of his work at the Indian Institute of Management and SRISTI, he played a key role in setting up the National Innovation Foundation and the Gujarat Grassroots Innovations Augmentation Network. As part of his current research, Dr. Patel collaborates with the Development of Humane Action Foundation, the Local Initiatives for Biodiversity, Research and Development, the Watershed Support Services and Activities Network, and the Arthacharya Foundation in South Asia. Dr Patel is actively associated with several development NGOs based in Winnipeg and other parts of Canada.
Print This Page