MSC Blog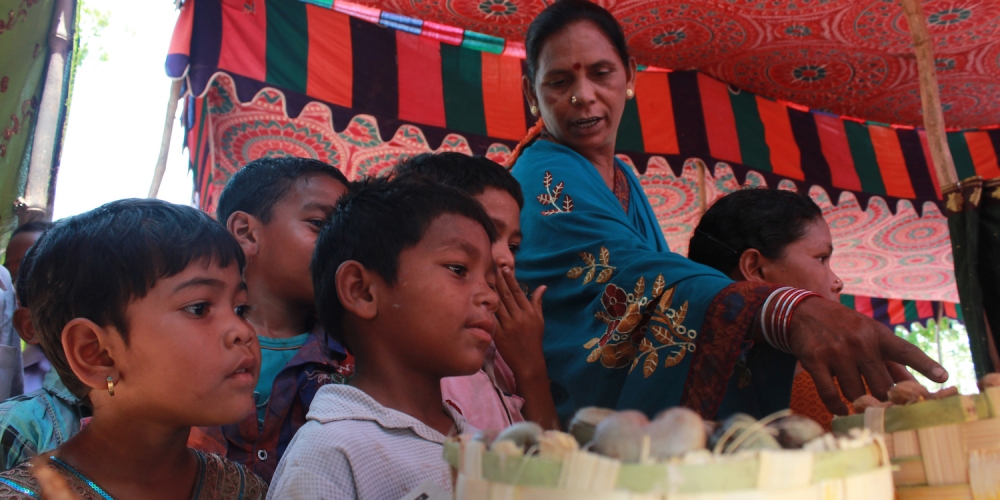 CMU/MSC research helps farmers reap nutritional benefits
Dr. Kirit Patel is passionate about food security.
"Farmers should be able to produce food in a sustainable manner, and they should have control on the production," says Patel, Assistant Professor of International Development Studies at MSC, a college of Canadian Mennonite University.
Patel is one of the principal investigators in a research project aimed at restoring millets to farm fields and kitchens in South Asia. More nutritious than rice, millets have fed people for hundreds of years, particularly in dry parts of Asia and Africa. The staple cereal crop has fallen out of favour, though, which could have dire consequences for consumers' health and farmers' livelihoods.
Patel and his research partners began their project, titled "Revalorising Small Millets in Rainfed Regions of South Asia," in spring 2011. In October of that year, the International Development Research Centre (IDRC)—a Canadian aid program that supports research in developing countries to promote growth and development—awarded the project $3.5 million. It's the largest research grant that CMU/MSC currently hold.
Patel is working with researchers from other Canadian universities like the University of Manitoba, the University of Guelph, as well as university and NGO partners from India, Nepal, and Sri Lanka.
The group aims to increase production and consumption of minor millets, pulses, and oil seeds in those parts of the world.
Small millets can tolerate difficult growing conditions and are easy to store. They are also nutritious and drought resistant crops, Patel says. They are a dietary staple for many indigenous people in South Asia, but that's changing because millets take a lot of muscle power to harvest and thrash. It's often women, who start work at 5 AM each day, who are doing this work, and people are reluctant to keep up the labour intensive practice.
Also, as the Indian middle class grows, millet is increasingly considered a lower-class food. Indian officials also subsidize rice and wheat, and it costs consumers much less than millet. Milled rice, however, is less nutritious, and it could be one of the factors in India's rising diabetes rates.
Scientists currently lack solid nutritional information about millet, including data to support or disprove perceptions about its health benefits. Quantifying nutritional benefits is one of the project's goals.
The project grows out of research Patel began as a PhD student at the University of Guelph. His field research, conducted in India, focused on the reasons farmers grow different types of rice and corn. Patel began his research with the assumption that diversity in rice and corn was declining, but was surprised to learn that the "real threat to diversity was to small millets, rather than rice and corn." This finding developed his interest in learning more about the consumption, production, and processing of small millets.
He is passionate about the work he and his team are doing, and was excited to receive funding from the IDRC.
"We were selected out of 275 projects—it was tough competition," he says. "It is a good feeling that the idea we have has merit."
Patel adds that the work is multidisciplinary, cross-cultural, and participant-focused. Farmers were consulted early on to determine the constraints they face when growing millets and the solutions they have already found.
"Farmers have considerable research capacity," says Patel, "they themselves have ideas on how to do research and how to ask relevant questions."
Some 20 students from around the world are working on the project, all of whom Patel says are top students from their respective universities. MSC international development students David Guenther, Ruth-Anne Seburn, and Kyle Wiebe have completed practica and thesis research by participating in the project. Guenther and Seburn each presented papers related to their research at the International Food Security Dialogue 2014, which was hosted by the University of Alberta from April 30–May 2, 2014.
The project is getting attention from top policy makers, and earlier this year, Governor General David Johnston visited Patel and his team in India.
As the project enters its final stages, Patel says he already has ideas on what future research may entail. He's interested in the linkages between rural farmers and urban consumers and would like to explore ways to strengthen those connections.
Ultimately Patel hopes the participatory nature of the project has strengthened the capacity of the farmers the research team worked with. "For me, the best thing is building their capacity to do research," he says. "If they get their capacity built, my role is redundant after five years. That's the real development."
Aaron Epp and Ellen Paulley are Writers at Canadian Mennonite University and Menno Simons College
Read Promoting food security and livelihoods for urban poor through the informal sector: a case study of street food vendors in Madurai, Tamil Nadu, India, a paper coauthored by Dr. Patel, David Guenther, Ruth-Anne Seburn, and Kyle Wiebe
Read the policy brief Small millets, big potential: diverse, nutritious, and climate smart, prepared by the IDRC
Print This Blog Post