MSC Blog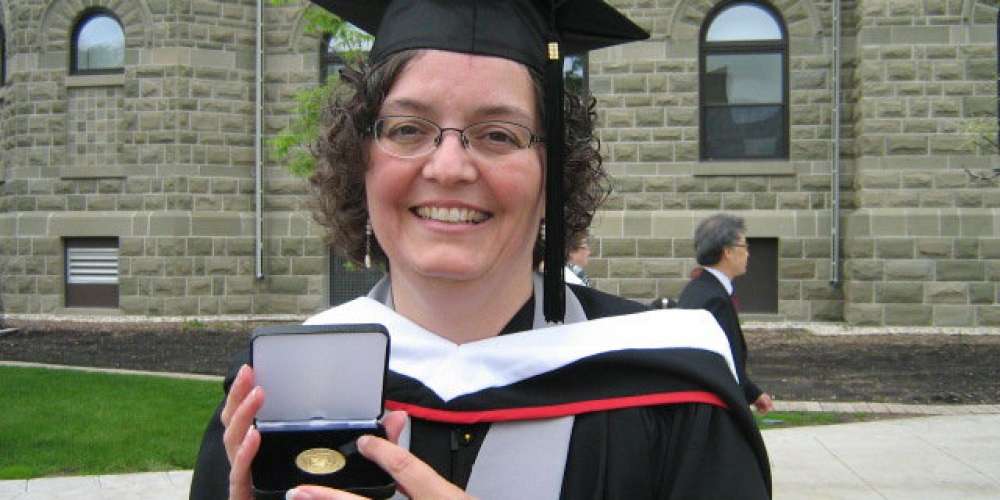 Honouring a peace builder: the Suzanne St. Yves Amani Peace Award
Gina Sylvestre
Though I first met Suzanne while sitting on a refugee-sponsoring committee, I had heard of her social justice work much earlier and I was intrigued to learn from her about transformation and equity. In the twenty-odd years of friendship since, I have witnessed a strong woman, rooted in personal spirituality, with an unwavering belief in humankind. Her commitment to peacemaking has been life-long, and over the years she has been involved with the Deaf community, people with disabilities, refugees, abused women, inmates, and ex-offenders.
The Suzanne St. Yves Amani Peace Award was established to support a student of Conflict Resolution Studies (CRS) who demonstrates this same soulful passion for peace building. The first scholarship is to be awarded this winter.
The idea of establishing a scholarship in Suzanne's name came about because she was diagnosed in 2014 with an aggressive and rare cancer. This scholarship will be a legacy to Suzanne's memory and the values she embodies. These values were eloquently described by Bridget Butt, the site supervisor for her 3-month CRS practicum experience in the Great Lakes region of Africa:
"[Suzanne] modelled the peace that we preached! Her peaceful and playful spirit was a gift to all who came in contact with her. She had an ability to bridge spaces between individuals, groups, faiths, cultures... It left an indelible mark in divided communities. Friends and strangers continued to ask for her years after her departure. Suzanne's peaceful presence led us all a few steps closer to the peaceable kingdom."
The Suzanne St. Yves Amani Peace Award also represents the legacy of Suzanne's determination. It was at the age of 40 that her commitment to social justice brought her back to university. She completed the degree while a full time consultant with the Manitoba Department of Education, working with school staff assigned to children who are deaf or hard of hearing.
Returning to university as an older student was intimidating, but she soon found that she flourished in the academic environment. Her experience of feeling unintelligent because of a childhood speech impediment was transformed when, upon graduation in 2010, she won the gold medal in the three year CRS program.
The Peace Award at Menno Simons will remember Suzanne's spirit by celebrating the qualities of compassion, tenacity, and hope for a future of peace. Karen Ridd, a CRS instructor, shares her delight upon learning of the scholarship:
"What an important award to have and what a great person to honour in this way! I have known Suzanne for many years, and for all those years have admired Suzanne's commitment to living out her faith through her commitment to social justice. So much of Suzanne's life and activism has been like a crystallized version of what MSC does and stands for. She's worked with Sojourners magazine, with the Deaf community, with issues of local justice and with those of global peacemaking. Suzanne's passion for growth lead her to become a student at MSC, where I had the honour of teaching her and learning from her. I remember Suzanne as a brilliant thinker and writer who fully committed herself to supporting the learning of her classmates. Thank you to Suzanne, and thank you to all who have made this award possible."
Further information about the award and instructions for applying can be found at uwinnipeg.ca/awards/current-continuing.html. If you wish to make a donation to the award, please visit uwinnipegfoundation.ca. On the donation page which appears, write "Amani Peace Award" in the field marked other.
Gina Sylvestre is a Professor of Geography at the University of Winnipeg.
Print This Blog Post