MSC Blog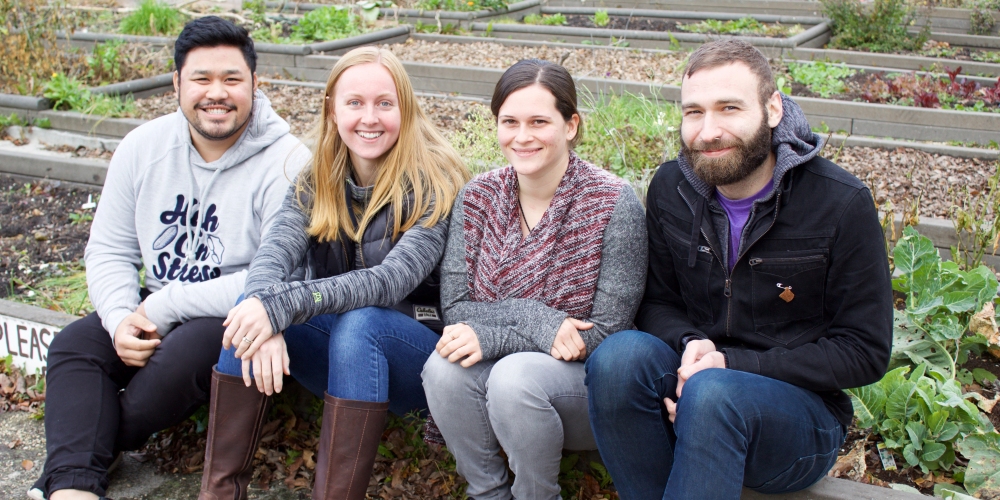 Food Matters Manitoba: changing the province one carrot at a time
Certain organizations attract Menno Simons grads like Milkweed attracts Monarch Butterflies. Food Matters Manitoba is one such nonprofit.
Food Matters, which partners with communities across the province to "make food more available and affordable," currently employs five Menno Simons grads or current students: Jennifer French (IDS), Amanda Froese (IDS), Gabriel Gabriel (IDS, CRS), Rob Moquin (CRS), and Katrina Sklepowich (CRS).
These five, each of whom are are new this year to the nonprofit, are hoping to one day "work themselves out of jobs" by creating sustainable networks of food policy and practice throughout the province.
Moquin, the policy coordinator for Food Matters, is working with the city to develop a Winnipeg Food Policy Council. He explains that food access issues in the city are directly related to city policy, such as zoning, transportation, health, and by-laws concerning things like markets, gardens, and urban husbandry. Positive, sustained change, therefore, is only possible by accessing official policy channels which work alongside elected officials.
"Food is one of those things that's everybody's responsibility, but nobody's responsibility," he says. A food policy council would establish a stronger mandate for who is responsible for what when it comes to food.
"We need a more holistic approach to food security," says Moquin. The problem is that responsibility for issues around food are dived between a variety of city departments which do not necessarily communicate with one another. For example, the Winnipeg Regional Health Authority may roll out a program encouraging children to consumer healthier foods, but unless the Department of Transportation makes those foods more accessible, it will not be successful.
Sklepowich is a Marketing and Communications intern. French, Froese, and Gabriel are interns who work directly with the public through education and community empowerment programs.
Gabriel, who emigrated to Canada from the Philippines as a young teen, assists newcomers to Winnipeg access more of their native foods and learn to integrate more Canadian foods into their cooking. He coordinates children's cooking classes as well, with the conviction that when young people learn to make healthy food options, it will have a major impact on their adult health.
Froese works closely with northern communities, assisting their leaders with whatever they need to break down barriers to good food. She follows an empowerment model which assumes the communities themselves know what they need most. The resulting programs have included nutrition classes, chicken husbandry, community gardens, goose camps, and classes on canning food from the land.
The barriers facing Manitoba's northern communities in particular are extensive. Some communities had self-sustaining food sources which were destroyed with the arrival of Manitoba Hydro in the area. Others have been hurt by northern food subsidy policies which tend to favour large purchasers over consumers. The quality and variety of available foods is often poor (imagine getting January tomatoes all year round).
In addition to their own team of staff based in Winnipeg, Food Matters has staff in Brandon and Thompson, working with partner organizations, and community connectors throughout the province.
For those of us with easy access to good food, it's easy to think of food as being an issue of preference rather than justice. But for MSC grads trained in the fundamentals of community empowerment and sustainable development, food is the key to growing healthy communities. It is a tool for cultural learning and itself a means of empowering vulnerable people groups.
Moquin, who has training in culinary arts, didn't think about food as community development prior to his training at MSC. Now, he is so convinced of food's ability to control or empower that he wonders why Manitoba doesn't have a Ministry of Food.
It's surprising just how many of Manitoba's social and economic challenges are connected to food. For this reason, the work of Food Matters is broad and varied. While food policy and access are among their top priorities, they also support the connection between food and culture, and lobby for preferencing local foods.
Each of the MSC grads are proud to work with Food Matters because of how the organization values communities over profit.
As Froese explains, it's "committed to doing things well." The grads' passion for community development, conflict resolution, reconciliation, and minority empowerment coalesces in their work at Food Matters. Together, they have hope for a healthier, more equitable Manitoba.
Print This Blog Post