MSC Blog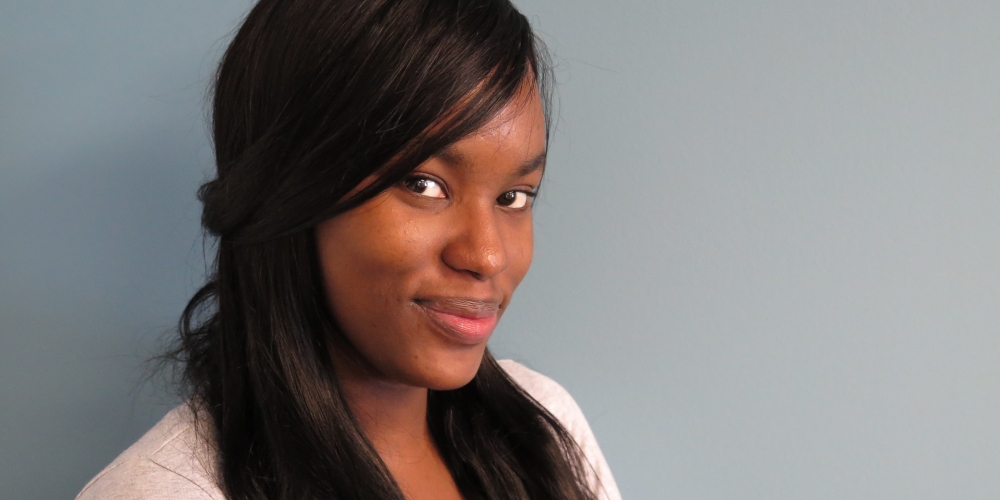 Traveling through books and learning
Why are some countries more developed than others? What structures or systems are in place that facilitate or hinder a country's development?
Questions like these prompted Aminata Kane to pursue International Development Studies (IDS) at MSC.
Kane, who is from Senegal, came to Winnipeg in 2013. Having attended a small high school, she knew she wanted to continue her studies in a similar environment.
"I'd rather be known as a person, not a number, and you need a small environment to get access to professors," she says. A small university offers the potential of a close-knit, community environment, she explains.
One of the IDS concepts that resonates with Kane is that of bottom-up development. She describes this as "working with those on the ground who need help and incorporating [those ideas] into development."
She explains that this approach can be partnership-based; it's about people seeing what they can do together to help.
Kane is also completing a major in business, which she finds complementary and relevant to her IDS classes.
"We live in such an industrialized world—business is talked about daily, indirectly or directly."
Both IDS and business courses discuss how to ensure the economy is functioning well, social benefits, and social responsibility. Business principles, such as marketing, can be used in development to help a community.
"Marketing is needed to get donors to gain profit to be able to have a sufficient budget to help those in need," she says.
For her practicum, Kane volunteered with the Canadian Association of Refugee and Forced Migration Studies (CARFMS) conference that MSC hosted in mid-May. The theme "Freedom of Movement" was inspired by the United Nations Declaration of Human Rights, which states that all people are entitled to free movement within and across national borders. Over 240 people from 22 countries attended the CARFMS conference and annual meeting.
Kane provided organizational support, French translation services, and organized a student caucus that took place during the conference.
"It was a really amazing experience working with such a wonderful organization and being able to network with scholars from all around the world," she says. "It gave me an opportunity to not only learn more about refugee crises, but the student caucus gave me a chance to talk to other students all in different levels in their studies about the conference."
Coming to a new country and city to study is a large task, which Kane knows firsthand. She offers the following advice to other international students:
"Make the most of the advising process and take courses that could be used anywhere—sciences, social sciences, arts," she says. "Make sure you get involved in the social part of university. Look for groups that interest you—chemistry, biology, or reading clubs. That can open up a lot of different opportunities to you."
This past year, Kane was the secretary/treasurer for the MSC Student Association, which allowed her the opportunity to deepen connections with her fellow students.
Studying international development has been a good fit for Kane, who plans to continue studying development at the masters level.
"Even if I don't get the chance to travel internationally, I can travel through books and learning."
She's interested in pursuing a career in development in some capacity, perhaps combining both her development and business education and interests.
Ellen Paulley is the Writer and Social Media Coordinator for Menno Simons College
Print This Blog Post