Upcoming Student Events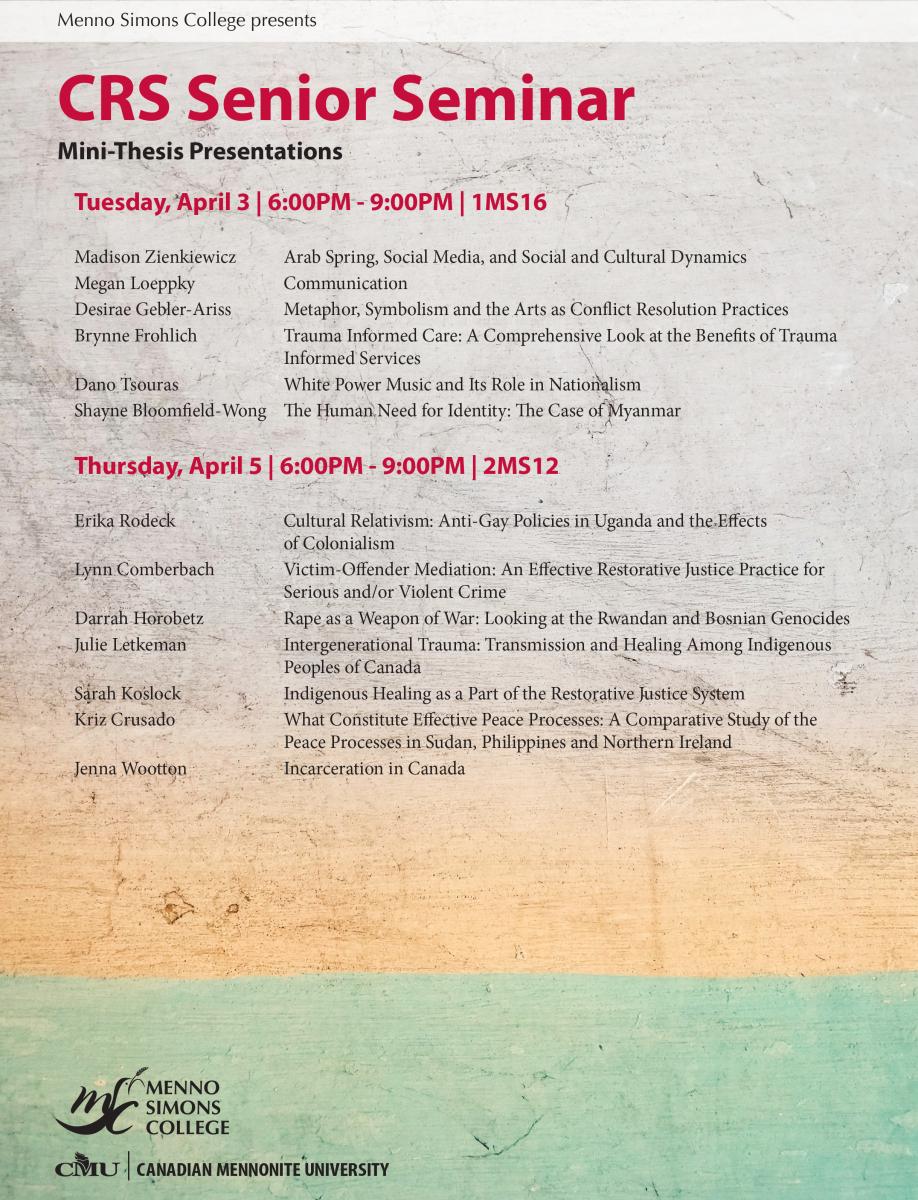 CRS Senior Seminar
Mini-thesis presentations
MSC invites you to hear the students from CRS Senior Seminar present their theses.
The public is welcome to attend.
Tuesday, April 3 | 6:00PM-9:00PM | 1MS16
Madison Zienkiewicz | Arab Spring, Social Media, and Social and Cultural Dynamics
Megan Loeppky | Communication
Desirae Gebler-Ariss | Metaphor, Symbolism and the Arts as Conflict Resolution Practices
Brynne Frohlich | Trauma Informed Care: A Comprehensive Look at the Benefits of Trauma Informed Services
Dano Tsouras | White Power Music and Its Role in Nationalism
Shayne Bloomfield-Wong | The Human Need for Identity: The Case of Myanmar
Thursday, April 5 | 6:00PM-9:00PM | 2MS12
Erika Rodeck | Cultural Relativism: Anti-Gay Policies in Uganda and the Effects of Colonialism
Lynn Comberbach | Victim-Offender Mediation: An Effective Restorative Justice Practice for Serious and/or Violent Crime
Darrah Horobetz | Rape as a Weapon of War: Looking at the Rwandan and Bosnian Genocides
Julie Letkeman | Intergenerational Trauma: Transmission and Healing Among Indigenous Peoples of Canada
Sarah Koslock | Indigenous Healing as a Part of the Restorative Justice System
Kriz Crusado | What Constitute Effective Peace Processes: A Comparative Study of the Peace Processes in Sudan, Philippines and Northern Ireland
Jenna Wootton | Incarceration in Canada
For information on arranging or coordinating a student event, contact msc.studentservices

:

@

:

uwinnipeg.ca.