Practicum & Internships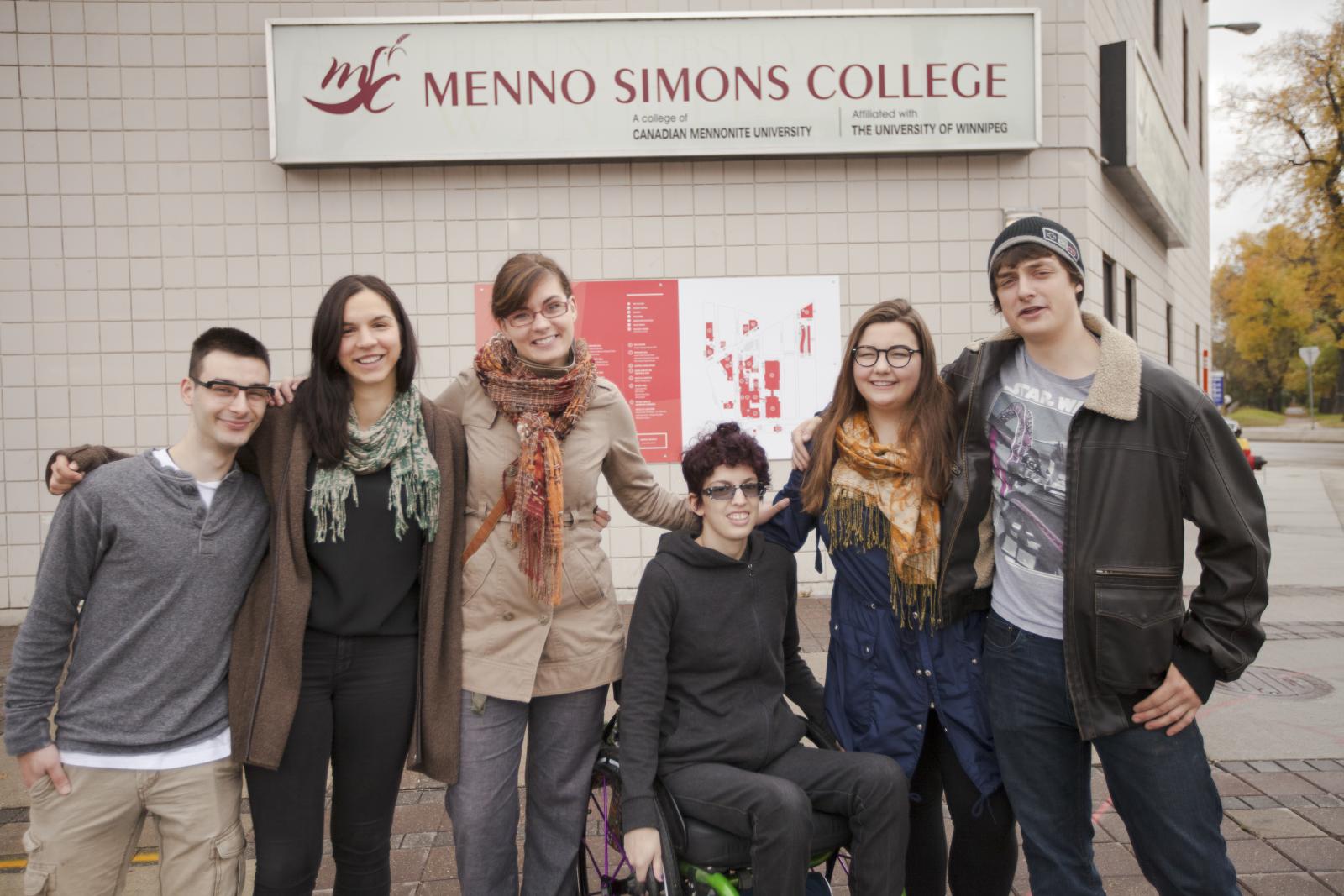 ©Alison Ralph. MSC Students. Menno Simons College.
Available Practicum Opportunities
New: Peace Africa Alliance, Sierra Leone, West Africa (IDS or CRS)

Peace Africa Alliance (PAACET) is an international peace and human rights organization focusing on human rights, post-conflict transformation, and structural violence using ethically sound conflict transformation techniques. This unique practicum opportunity allows students to participate in areas like peace and human rights education; women's empowerment, and civil society capacity building, among others.
Inner-City School Mediation Practicum – only two spots left!​ (CRS)
This unique opportunity allows students to actually mediate conflicts, and work directly in conflict situations. Students also gain experience working in the public school system with youth from diverse cultural backgrounds.
Careers that Fight Climate Change Network (CFCCN) Youth Mentorship Practicum (CRS)
Take part in the pilot year of an experiential programming for diverse high school youth in Winnipeg, while gaining hands on experience conducting ecologically informed analysis of the potential sources of conflict, as well as the dynamics of peace building in the context of environmental change.
Practicum with Senator Marilou McPhedran
In this exciting opportunity, students will work with the Senator for a minimum of 6 months part-time doing online advocacy, communications, and/or research. Students will work remotely, and applications are accepted on an ongoing basis.
Learn more
Onashowewin Justice Circle (CRS)
Onashowewin is part of the Aboriginal Justice Strategy and incorporates cultural understandings and traditional teachings in enhancing Restorative Justice approaches to repairing the harm of criminal offences. Students will be involved with or observe re-offending prevention workshops, mediation, conferencing circles and Cultural Advisory Counseling sessions, as well as work with individuals.
ArtsJunktion (IDS or CRS)
ArtsJunktion is a community-based, charitable organization committed to redistributing reusable materials. It provides materials for more than 350 nonprofit organizations and schools. They keep their depot full of reclaimed treasures, facilitate workshops focusing on various art techniques and environmental sustainability through creative reuse and workshops. This placement is a good fit for someone interested in building community partnerships, developing arts/community/environmental sustainability programming and non-profit administration.
WestEnd Commons Program Assistant (IDS or CRS)
The practicum student will assist staff in delivering programs for tenants of WestEnd Commons. This position will primarily involve supporting existing evening programs. In addition, the student will have the opportunity to work with tenants to identify desired programming and help to develop a new program alongside the staff and tenants of WestEnd Commons.
The Menno Simons College practicum is a supervised work experience in a setting related to international development or conflict resolution. It is a chance to gain work experience related to your studies and integrate your work experience with the rest of your courses.
Some students complete their practicum in Winnipeg, while others seek placements around the world. A local placement is approximately 80 hours of 'on-site' work over the span of one or two school terms. An international placement involves a minimum of three months in another country.
All students will integrate theory with practice through seminar participation and academic assignments. The final grade of pass or fail is based on two aspects:
the evaluation of the site supervisor
academic assignments
Academic Credit
Upon successful completion of the practicum placement, students receive 3 hours of academic credit towards a Bachelor of Arts in International Development Studies or Conflict Resolution Studies. In the case of an international placement of extended duration, a student may be eligible to receive 6 credit hours (as determined by the Practicum Director).
Eligibility and Prerequisites
A practicum is required for a 4-year and 4-year honours degree in International Development Studies and a 4-year degree in Conflict Resolution Studies. Students completing a 3-year Bachelor of Arts in International Development Studies or Conflict Resolution Studies have the option of participating in practicum. In order to register for a practicum, students are required to have a minimum cumulative GPA of 2.75 and must have completed the following courses:
Prerequisites for CRS Practicum
CRS-1200/6 Introduction to Conflict Resolution Studies
CRS-2210/3 Conflict theory & Analysis
CRS-2211/1.5 Coaching Skills Workshop
CRS-3220/3 Models for Conflict Transformation
CRS-3221/1.5 Mediation Skills Workshop
Prerequisites for IDS Practicum
IDS-1100/6 Introduction to International Development Studies
IDS-2110/3 Participatory Local Development
Additional 6 Credit Hours of IDS Core Courses
Where Do I Start?
Consult with the Menno Simons College Academic Advisor to ensure that you have the prerequisites needed to apply for a practicum.
Do some research to find a suitable placement and present your idea(s) to the Practicum Director or the MSC Academic Advisor for approval. Do this at least three months before the start of a local practicum, and at least six months before the start of an international practicum.

If you are having difficulty finding a placement, the MSC Academic Advisor can provide you with some possible organizations and identify people to contact. Ultimately, it is the student's responsibility to find a suitable placement.
Submit a local or international practicum application form. If you apply for an international practicum, you also need to submit a budget form. Menno Simons College offers partial financial assistance to each International Development Studies or Conflict Resolution Studies student participating in an international practicum.

Application Forms:
Local Practicum Application Form
International Practicum Application Form & Budget Form
Receive permission from the Practicum Director to register for the appropriate practicum course and register for the course.
Local Placements
Local placements are available for both Conflict Resolution Studies and International Development Studies students. A local practicum can be completed on a part-time basis over one or two academic semesters. Students must volunteer with an organization for approximately 80 hours.
In addition to written requirements for all practicum placements, local practicums require participation in two practicum seminars.
Local practicums cover a wide range of organizations. For possible local placements, see the following lists:
International Placements
International placements are available to both International Development Studies and Conflict Resolution Studies students. Menno Simons College students have traveled to over 50 different countries and have recently returned from placements in Ethiopia, Uganda, Kenya, India, Nepal, Cambodia and Ireland, among others.
All costs are the responsibility of the student, including airfare, accommodation, insurance and immunizations. Some financial support is available for international practicums.
Pre-departure orientation and re-entry debriefing sessions are held for each Menno Simons College international traveler. The Practicum Director helps with logistical and cultural preparation for an international placement (see International Practicum Checklist).
Possible international organizations include those with on-going relationships to Menno Simons College such as: Mennonite Central Committee, Nairobi Peace Initiative, and Hands for Hope Uganda. Students may also find a position through an international volunteer agency or personal contacts.
For a list of international practicum ideas, click here.
Helpful Websites for International Volunteerism
Helpful Information for International Travel
Passports
Canadian Passport Applications, 433 Main Street, Winnipeg, Manitoba
Immunizations
While your family doctor may be able to give you the information and immunizations you need, not all immunizations are available at every clinic. We recommend you check with a travel clinic, such as Skylark Medical Clinic (204-453-9107), Travel Health and Tropical Medicine Services (204-940-8747) or Journey's Travel Clinic (204-982-9500).
Travel Information
Consular Affairs for Canada
To register on-line in the country you are visiting, click here
Country Specific Information
Centre for Intercultural Learning